This is the story of how we became happy owners of Inn Victoria.
About Our Victorian Inn in New England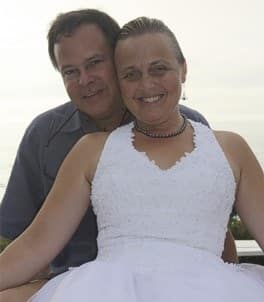 Having been married for 30 years and running the corporate race for 25 years, we made the decision to follow our 30-year dream of running our own bed and breakfast. For years we asked ourselves how to get off the fast track of corporate life and actually take time to enjoy each other and other people. I believe we have found the balance! With our children successfully established on their own, we felt that we were ready to start pursuing our dream of owning a B&B.
In late summer of 2009, I surprised my wife with a wedding dress, lobster bake, and a ride to an island off coastal Maine. There, Penny and I renewed our wedding vows during a ceremony surrounded by 50 loved ones. This wonderful experience helped put our lives into clearer focus. We knew then that we wanted to spend more time together, enjoying something that we both love.
We love people, we love serving with a gracious servant's attitude
We love people, we love serving with a gracious servant's attitude, and we enjoy watching people in our inn smile at the simple pleasures we are able to bring to them.
Constructed in 1850, Inn Victoria began its life as the family residence of Dr. Abram Lowell, (who gave his name to the nearby Lake and State park). The doctor used the small building on the side of the house as his medical office. In the 1880s, George Hilton, Lowell's son-in-law added a third story and mansard roof to the house in the style of the French second empire. Inn Victoria, also known historically as the Hilton House, is the only example of this architectural style in Chester, Vermont.
Over the years, Inn Victoria has had many uses other than a family residence. It was once a Milner's, a cartography office for the National Survey, and for many years was unoccupied before opening as a bed and breakfast inn in 1988.
Under new ownership since early 2005 and following an intensive renovation, Inn Victoria is now one of the finest B&Bs in Vermont. The eye-catching purple and butter-yellow paint often draws the admiration of people passing by. Guests entering our stately front door are immediately impressed by our beautifully appointed Victorian parlor. High attention to detail and comfort is evident throughout the inn, which is decorated with period antiques and special touches designed to enhance our guests' stay. Before leaving, many guests ask for a tour of the remaining guest rooms and suites; it is our pleasure to do so! Don't be shy, ask!
In order to cater to those who can't quite let go of business, we provide Wi-Fi Internet access in every portion of the property including both Mac and PC laptop access if needed. You may use us as your business concierge service if needed: fax, copy, mail, whatever meets your needs. All of the rooms are equipped with the most modern conveniences; flat-screen TVs with DVD players, iPhone radio/clock system, extremely fast Wi-Fi Internet access, and over 100 current movies in our DVD library. Seasonal air conditioning is provided for each room. We have developed a meticulous sleep system consisting of luxurious silky linens on a feather mattress topper, triple sheets, and lots of pillows.
We provide access to 24-hour personal coffee and tea service through a Green Mountain Personal single cup maker, special evening refreshment service delivery to your room, afternoon tea and baked goods, a refrigerator, soft drinks, bottled water, and of course there is plenty of space available for our guests to leave some cool beers for Dan to enjoy!
Check out what the world's most reputable travel advisory firm (Trip Advisor) says through their collection of reviews. We work to earn your respect and we guarantee an exceptional experience!
Dan and Penny were recently interviewed by their local Chamber of Commerce about why they (and other business owners) moved to the Okemo Valley … we hope you enjoy the video!